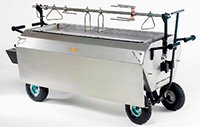 Get ready to improve your London hog roast hire with the addition of this traditional spit roast kit. Designed to be used with any of our hog roasting machines, it allows you to produce masses of meat in one go. It can hold an 80kg whole pig, which is huge! It also comes with a 240v motor to power the slow turning action that will cook your meat so effectively. Watch as it rotates and sizzles; your guests will be transfixed too.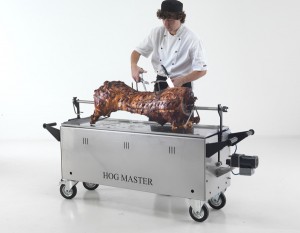 When it's time to carve, the spit roast kit can be raised into the serving position for cutting of the meat in the open air. The smells are a delight! As you carve away in front of your guests eyes, the carving tray beneath will catch your trimmings and keep them warm until you are ready to dish up. How will you serve yours? With apple sauce and stuffing, or in a tangy BBQ sauce?
Hire a hog roast machine from us and we can make your catering into the talking point of any event. Get in touch today to chat about our machines, accessories or how to improve on your hog roast cooking. We'd love to help you!