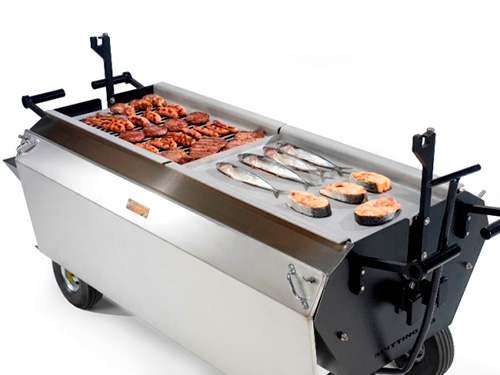 Get ready to complete transform your hog roasting machine into a fully-fledged gas powered BBQ. Enjoy the flavours of summer come rain or shine at you next big event. When you find out more about this accessory you'll be wondering whether a traditional hog roast hire in London is what you're really after. Now you can feast on laidback BBQ favourites like juicy kebabs, spicy burgers, whole fish, sticky chicken and sizzling sausages – feed your guests with these succulent delights. Get the ketchup read!
The BBQ set is designed to sit on top of the Platinum hog roaster (available for hire or purchase) and uses the maximum surface area by removing the doors and placing them on the ends of the machine. It uses two thermostatic burners for even temperature on the grill plate. This means you can always stay in control and there's no longer a need to suffer burnt barbeque cooking.
On the lower level of the Platinum you can keep other BBQ food products warm whilst you grill your meat. Vegetables, garlic bread and jacket potatoes can all be kept nice and warm.
Get in touch with us today and find out more about the BBQ set for hire or sale from us today.