Are you making the most of your hog roast machine? With the hog roast kit for hire or purchase from us, you can ensure you have the maximum capacity available. This hog roasting essential can hold up to 70kg as a whole pig and then approximately 80kg of other meat, from pork cuts to beef steaks or whole turkeys – whatever you and your guests fancy. This roasting kit will easily allow you to feed hundreds of guests in one go.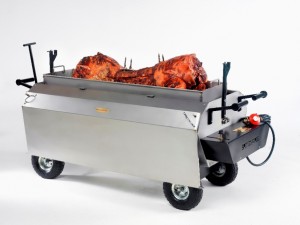 At Hog Roast Hire London all our machines and equipment has been designed to be used by even the most novice of chefs. If you're new to events catering or are looking to do a DIY hog roast at your wedding reception or other special occasion, our products could be just what you need. Plus, we're always on hand to offer advice should you need it and we have over 50 years in the business.
This Hog roast kit uses two burners with thermostat controls to maintain the ideal cooking temperatures for your meat and when cooked you can carve directly into the carving tray.
Want to know more about this or any other of our roasting accessories? Just give us a call today.