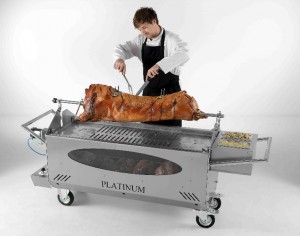 Are you looking to hire hog roast equipment in London? Then you needn't look any further than HogRoastHireLondon.com! We have over 50 years' experience in the catering industry and our speciality is hog roasting, providing state of the art machinery to a wide range of clients from hotel chains to restaurateurs. We know just how hard it is to cater for large numbers. There is so much time and dedication needed to perfect the menu and choose dishes that the majority will enjoy, this is where hog roasting can come in and make your life so much easier! A succulent roast pig never fails to disappoint, whomever the crowd. Try cooking with our machinery today and you'll soon see why hog roasts are so popular.
Each of our hog roast machines has been designed by professional caters. Ease of use has been put at the top of the list, alongside great functionality for control of temperatures and the perfect result every time. All our machines have been produced with a beautiful aesthetic too. Made from stainless steel that is easy to clean. Get ready to impress your guests when you set-up our hog roast hire at your London event.
A Whole Range Of Hog Roast Machines
You can choose from our Hog Master, Titan and Platinum hog roasting ranges and we also have a number of accessories to choose from. One of our favourite add-ons is the classic spit roast kit. Spit roasting is a traditional and delicious way to cook your pig and sure to fascinate your guests as they watch a whole hog slowly rotate and sizzle.
Hiring a hog roasting machine from us is a great way to cater your next special event, or perhaps you want to rent a roaster so you can test run for future purchase?
Have you rented our hog roasters before? If you were impressed the first time, you might consider purchasing your own machine as a great investment for your catering business. Either way, get in touch to discussing renting or purchasing a hog roaster or spit roasting machine today. We are ready and eager to help you.